Pickerington
January 21, 2022

Pickerington Homes for Sale
Displayed below are homes for sale in Pickerington, OH, a city located in Central Ohio. These Pickerington Listings are updated every 15 minutes from the Pickerington MLS.
Properties Under Market Value | Newest Listings | Open Houses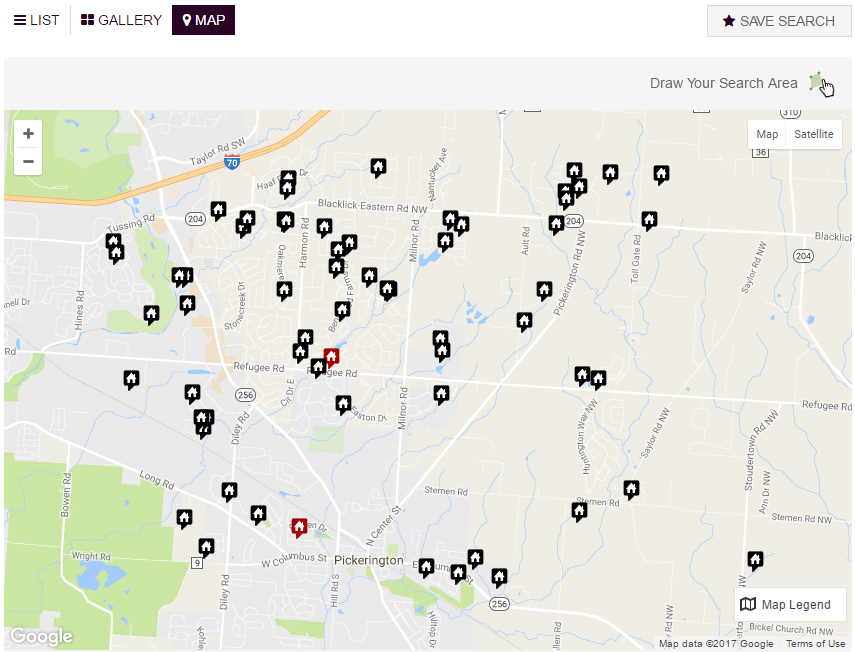 Save
Are you looking to buy or sell a home in Pickerington? Call or Text 614-782-1960 to schedule a showing on any Pickerington Ohio home for sale or to sell your Pickerington Ohio home!
Displayed below are homes for sale in Pickerington, OH, a city located in Central Ohio. These Pickerington Listings are updated every 15 minutes from the Pickerington MLS.
Pickerington Ohio Real Estate
As Realtors specializing in the Pickerington real estate market, we can take care of all of your Pickerington Ohio real estate needs including buying pre-existing homes, new construction homes, condominiums, land, commercial and multi-family homes in Pickerington Ohio. We can also help you find distressed properties in Pickerington including HUD Homes, Short Sales and Bank Foreclosures. If you need help financing a home in Pickerington, we have access to some of the best lenders that service the Pickerington area, including lenders that offer free credit repair and work with home builders in the Pickerington area to help you build your home while building up your credit. If you are going to buy or sell a home in Pickerington Ohio, then be sure to Call or Text 614-782-1960 - The Buckeye Realty Team with Key Realty, a real estate team specializing in Pickerington, Today!
Displayed below are homes for sale in Pickerington, OH, a city located in Central Ohio. These Pickerington Listings are updated every 15 minutes from the Pickerington MLS.
Pickerington Homes for Sale (Sale Pending)
Pickerington Pending
January 21, 2022
Pickerington, Ohio
If you are looking to settle in a place that is away from the hustle and bustle of the city in Central Ohio and is offering all the city life amenities, there can be no better place for you than Pickerington. The city is located at just the 25 minutes of drive from the downtown Columbus. It is known to be a unique blend of quiet rural surroundings and urban access. The city boasts of various features which make it an ideal place to live in, more on that later. Let's first have a look at some facts about the city.
Facts about Pickerington, Ohio
The city was founded in 1815 and remained a small community that was known primarily for its agriculture for more than 150 years. It was its proximity to Columbus which helped it to become an attractive choice for the families to settle in. Moreover, families who wanted to move away from the chaotic city life found solace in the serene and calm environment of this city. The popularity of the Pickerington has increased in the recent past which has resulted in a rise in population, which has almost doubled in last 15 years. Now that you are aware of certain facts about the city, let's move on to know the reasons which make this city the best place to settle in.
Reasons to Settle in Pickerington, Ohio
Family-Friendly Environment
A prominent reason why the families prefer this city over other cities to move and settle in is the family-friend environment. The city comprises of single-family homes, condos, and other units that are suitable for the families.
Education Facilities
The median age of the residents of the city is younger than that average age of the state Ohio. The majority families that are residing in the city have children under the age of 18. There are seven elementary schools providing quality education facilities to the young citizens of the Pickerington. Apart from quality education, the schools are also known to offer a variety of extra-curricular activities that include parent-teacher organization for the betterment of students, after school care facilities etc. Moreover, special resources are arranged for the students who cannot afford a quality education. All the factors combined helped the schools in this district to earn the state rating "excellent" in the year 2009-2010.
Facilities of City Life with Calm Surroundings
All the amenities of the city life can be availed in Pickerington while you get to enjoy the serenity and the feel of the small town. The city is home to a shopping center from where you can all that you desire, several food points and restaurants offering quality food, a swimming pool, hotels, and two public parks. The robust public library maintained by the city deserves a special mention as it had received the prestigious "Carnegie Library" title because of the large donation it received in 1916 from Andrew Carnegie. It is the smallest library in the whole nation to have received this title. Moreover, the parks and recreation department of the city also holds several events i.e. sports leagues for kids and adults, and other activities for the residents.

Apart from the facilities mentioned above, the residents of Pickerington can also avail the various benefits of the proximity to Columbus which includes the Ohio State University, favorable climate, diverse culture scene etc.
Pickerington, Ohio Real Estate
If you have finally made up your mind to settle in this beautiful city, we have got the best choice for you. Explore the extensive range of homes that we are offering and select the one that is best for you as per your needs and fall in your budget bracket. You can also contact us if you want to sell your Pickerington, Ohio Real Estate property. We will ensure your property will be sold at the best rates and in quick time.
Pickerington Homes Sold

Pickerington Sold
January 21, 2022
Pickerington Subdivisions